Description
It's made from botanical extracts that helps to remove pigment, spots and skin discolorations. It's safe natural and gentle leaving the skin soft and flawless without any worry of the side effects of damaging and toxic chemicals(hydroquinim and mercury)
Because of it natural properties it's safe for all skin types so with these product say good bye to insect bite scars, dark under arm, dark inner thighs, dark knuckles, knees, ankles and feet. And hello to a uniform, radiant, finer and softer skin.
INGREDIENTS:
DI-water, Cetearyl alcohol, Cyclotetrasiloxane, Caprylic/Capric Triglyceride, Propylene glycol, Glyceryl Stearate, Cyclopentasiloxane, PEG-100 Stearate, Cetyl Myristate, Glycerine, Ceteareth-25, Aluminum Starch Octenylsuccinate, Ceteareth-6, Stearyl alcohol, Butylated hydroxytoluene , Disodium EDTA, Acrylates Copolymer, Magnesium Carbonate, Allantoin, Malva Sylvestris (Mallow) Extract, Mentha Piperita (Peppermint) Leaf Extract, Primula Veris Extract, Alchemilla Vulgaris Extract, Veronica Officinalis Extract, Melissa Officinalis Leaf Extract, Achillea Millefolium Extract, Alcohol, Methyl Paraben, Ethyl Paraben, Propyl Paraben, Butyl Paraben, Isobutyl Paraben, Phenoxyethanol, Diazolidinyl Urea, Iodopropynyl Butylcarbamate
PRODUCT APPLICATION:
Before you apply the cream, you should do a gentle skin exfoliation to remove dead cells and strengthen regeneration.
For best results, apply to affected areas frequently.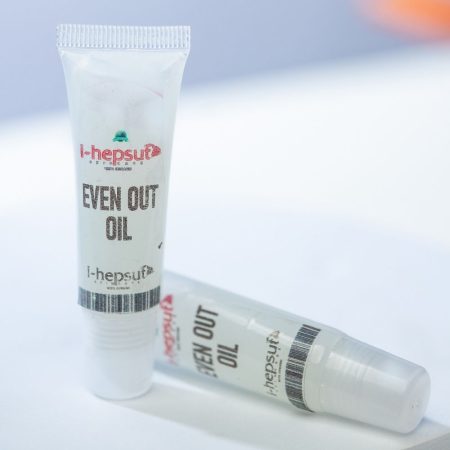 i-Hepsut 100% Organic Even Out Oil
₦

7,500.00